The Invest|Pro Platform
---
Leading life assurance, wealth, asset management firms and outsourcers use the InvestPro platform to automate manual investment administration processes in order to reduce operational costs and reputational risk, manage regulatory compliance processes, and generate timely financial reporting. 
There are three main components to the InvestPro Platform: 
Core Processes 
Framework 
Interfaces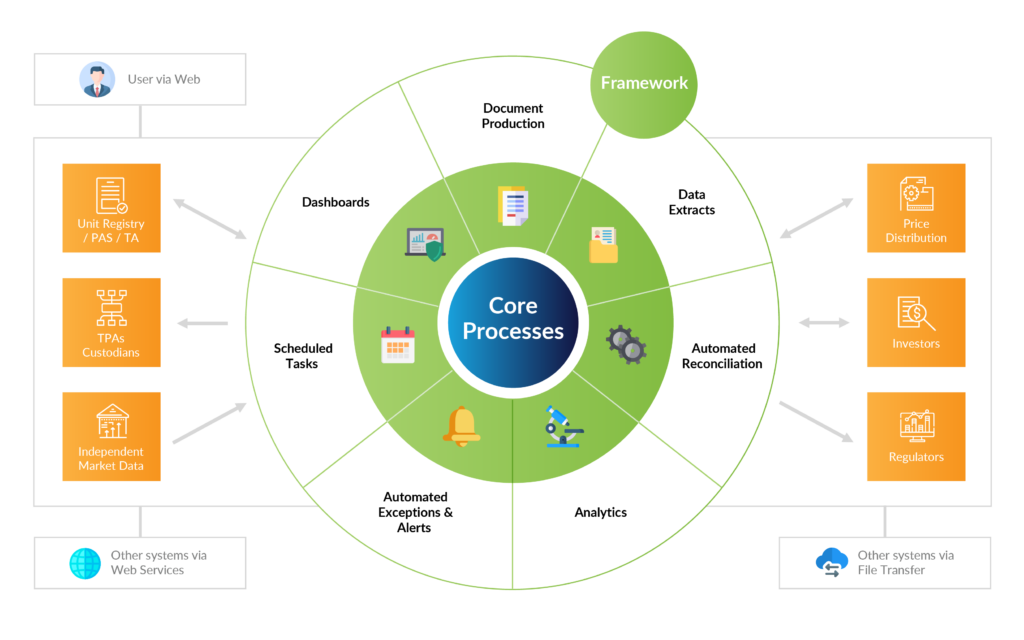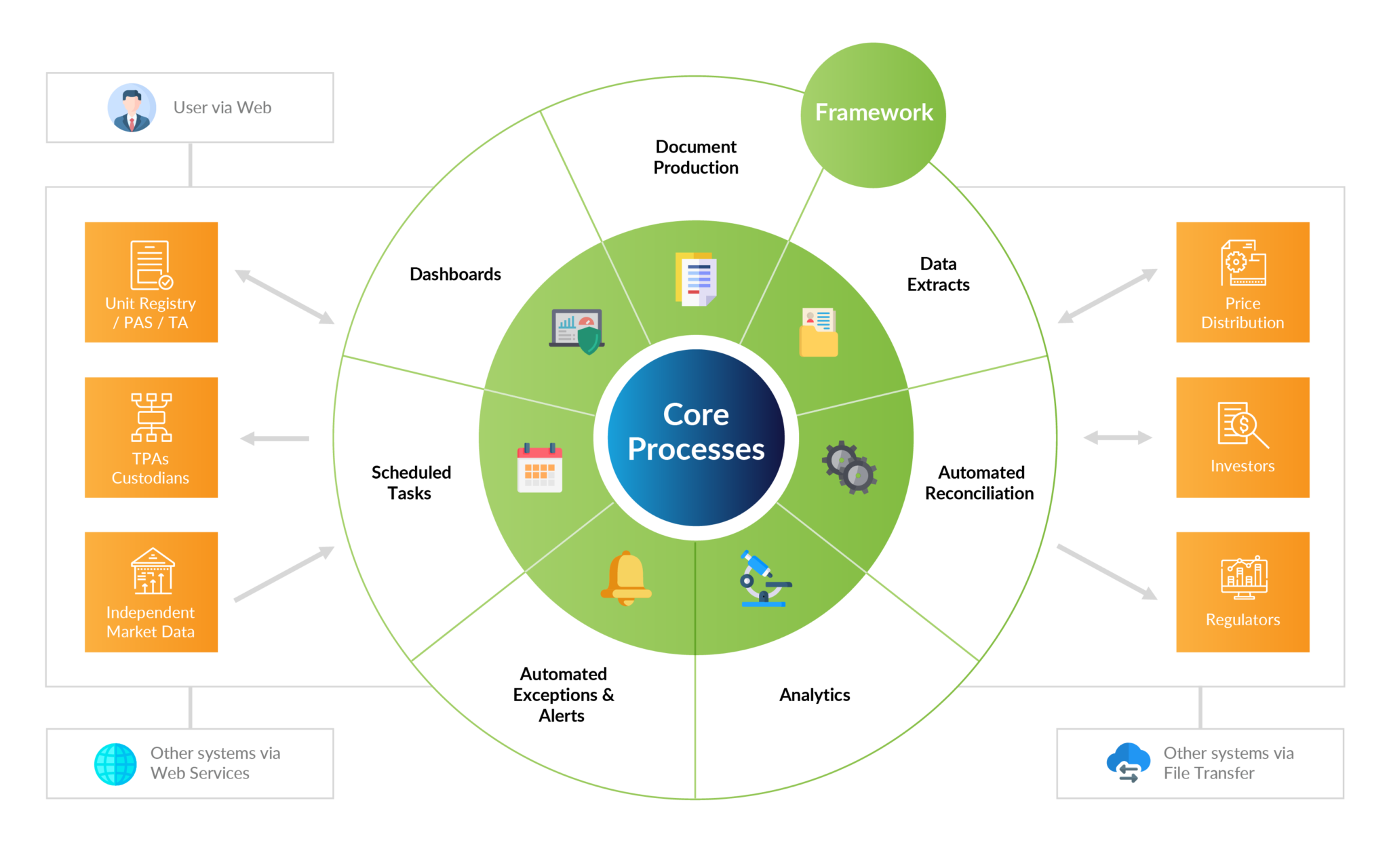 Core Processes
The core processes of InvestPro reside at the centre of the diagram where the data processing takes place. Data feeds from internal systems, market data suppliers, investment managers, custodians are taken in and transactions are created by InvestPro with all of supporting data such as accounting book of records, audit files and regulatory data being written to the InvestPro database and sent to downstream systems. 
View Core Processes by industry sector here:
Framework
The InvestPro framework provides a rich layer of intelligent system checks and balances and can be configured to alert key personnel when things appear volatile, complex or different in the daily investment middle and back office. The following are an example of some components that provide automation, MIS and exception handling: 
Scheduled Tasks
InvestPro's Task Scheduler enables process automation, such as complex multi-stage investment processes, to be run automatically utilising high powered servers. This approach embeds the operating model and removes the risk of human error in data entry and process management, minimising operational and reputational risk, whilst maximising operational efficiency.  
Exceptions & Alerts
InvestPro Rules Management enables exception based processing. This module independently checks your processes and data for issues which could potentially lead to errors or process failure. When rule exceptions occur they are broadcast to a defined email distribution list. Rules can block other processes from running when the system detects non-normal data patterns and requires such exceptions to be signed-off by nominated persons.  
Analytics
Analytics is the reporting tool that connects the user to the business process running on the server. It is a powerful web based business intelligence tool for investment administration. Due to our highly optimised report design the user can quickly view and create reports.  
Dashboards
The InvestPro dashboard enhances the transparency of operational processes providing a single point of truth and control to maximise operational efficiency and reduce operational risk. 
Interfaces
InvestPro has interfaces with users and other upstream and downstream processes such as policy administration systems, investment administration teams, data information providers and trading platforms. InvestPro flexes to fit with your systems, to speed up implementation and minimise the impact of deployment.   
Schedule a Live Demo
Need more information or want to arrange a demo of InvestPro? Contact our team today and we will be happy to help!